News, Reviews, and Social Media
---
Other Web Resources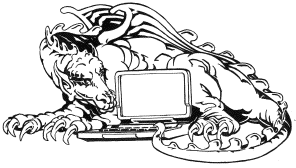 More Inklings Sites
The Bird and Baby
Personal web page maintained by David Lenander in support of the Society and the Minneapolis/St. Paul discussion group chapter, The Rivendell Group.
Elvish Linguistic Fellowship
Includes a directory of primary and secondary works on the study of J.R.R. Tolkien's invented languages, as well as information on the Elvish Linguistic Fellowship, linguistic journals, Internet mailing lists and Web sites.
Parma Eldalamberon
Parma Eldalamberon: The Book of Elven-tongues
is a project of the Elvish Linguistic Fellowship, a Mythopoeic Society special interest group. Since the 1995 publication of Parma Eldalamberon No. 11
I-lam na-Ngoldathan: The Grammar and Lexicon of the Gnomish Tongue
by J.R.R.Tolkien, this journal has become a medium for presenting Tolkien's unpublished writings on the languages of Middle-earth. It is published with the guidance and supervision of Christopher Tolkien and with the permission of the Tolkien Estate.
The Web of Exchange
The Web of Exchange web pages, for linking people interested in Charles Williams and his writings, are back on the Web. Coordinated with the COINHERENCE electronic mailing list/discussion group.
---
The Inklings
Encyclopedia of Arda
The Encyclopedia of Arda: An Interactive Guide to the Works of J.R.R. Tolkien contains a wide variety of information on the author's works, as well as links to related web sites.
C.S. Lewis and the Inklings Web Site
Maintained by Dr. Bruce Edwards of Bowling Green State University; contains information on graduate studies and workshops in addition to general resources on Lewis and Inklings studies.
Into the Wardrobe: the C.S. Lewis WWW Page
A popular Lewis site which includes a Lewis "Quote of the Day" in addition to bibliographies, photos, and links to other web resources on literature and Christianity.
The Charles Williams Society
This British organization publishes a quarterly newsletter, meets three times a year and sponsors occasional conferences; also hosts a lending and reference library.
Owen Barfield World Wide Website
Dr. David Lavery, Professor in the English Department at Middle Tennessee State University and one of the two co-authorized biographers of Barfield, maintains this site.
---
Authors and Awards
G.K. Chesterton Web Site
Contains many electronic text versions of Chesterton's writings, as well as links to other authors and related topics.
The Golden Key: The George MacDonald WWW Page
Contains E-Text versions of many of MacDonald's works plus some recommended reading and links to other related pages (including those devoted to Lewis and Williams).
Lewis Carroll Home Page
Information for the Carroll enthusiast on organizations, events, electronic texts, word games, lesson plans for teaching grammar using
Jabberwocky
, and even more esoteric goodies....
William Morris Home Page
Devoted to the British craftsman, designer, writer, typographer, and Socialist, with news of events, information about the William Morris Society, and links to other places of interest.
The Victorian Web
An enormous multi-linked compendium of Victoriana, which includes information on literature and the visual arts, with specific references to such authors as William Morris, George Meredith, and Christina Rossetti.
Selected Authors of Supernatural Fiction
Includes information on Lord Dunsany, William Hope Hodgson, H.P. Lovecraft, Edgar Allan Poe and other masters of the genre, with links to bibliographies, on-line texts, reviews and other material.
The Children's Literature Web Guide
Internet resources related to books for children and young adults, including information on resources for teachers, writers and storytellers, movies and television based on children's books, awards and "best books" lists.
The Literary Award Database
Information about various literary awards including comprehensive listings of winners and nominees. Particularly nice: a cross-reference by author, and a calendar of when the awards are presented.
---
Genres: Fantasy, Myth, Science Fiction
The Labyrinth
A
huge
World Wide Web server for Medieval Studies sponsored by Georgetown University. Can be searched for specific topics, with subject menus for various national cultures, Arthurian studies, Norse culture, religious history, and much more.
The Endicott Studio of Mythic Arts
Online journal featuring works -- essays, reviews, artwork and more -- by writers, painters, sculptors, photographers, and performance artists in the Endicott circle (including Ellen Kushner & Delia Sherman, Midori Snyder, Charles de Lint, Jane Yolen, Neil Gaiman, Charles Vess, Thomas Canty, and others).
Bulfinch's Mythology
Search or browse through the three volumes: "The Age of Fable or Stories of Gods and Heroes," "The Age of Chivalry or Legends of King Arthur," and "Legends of Charlemagne or Romance of the Middle Ages." Large collection of mythology links.
Encyclopedia Mythica
This is an encyclopedia on mythology, folklore, legends, and more. It contains over 6100 definitions of gods and goddesses, supernatural beings and legendary creatures and monsters from all over the world.
Myths and Legends [link is obsolete; site may not exist any more]
An excellent resource for web information on myths from all cultures (Anatolian to Welsh) plus folklore from Robin Hood to gothic horror. It's one-stop shopping for anyone starting to explore any of these areas.
Faerie Lands Forlorn
A lovely selection of poetry, art, tales and fonts from the Scriptorium (an online source of unusual fonts and graphic arts resources). Offers shareware and free downloads, as well as being a visual delight. Worth a visit!!
Science Fiction Resource Guide
A really impressive collection of information and links, which includes magazines, art, writers' resources, and music in addition to more easily available information on the genré.
Science Fiction and Fantasy Research Database
An online index to over 60,000 historical and critical items about science fiction, fantasy and horror. Includes Mythlore.
---
Other Organizations
The Tolkien Society
Web site for the British Tolkien Society, whose aim is the furtherance of interest in the life and works of the late Professor J.R.R. Tolkien CBE.
The University of Wisconsin Tolkien Society
Co-organizers of the 1999 BreeMoot 4/Mythcon XXX conference, this group, run by Richard West, meets monthly to discuss Tolkien and related fantasy literature.
International Association for the Fantastic in the Arts
(IAFA)
The IAFA is a scholarly organization devoted to the study of the fantastic (broadly defined) as it appears in literature, film, and the other arts. The organization sponsors an annual conference, operates an electronic mail discussion list, and publishes essays, bibliographies, and a newsletter.
Science Fiction and Fantasy Writers of America, Inc.
(SFWA)
An organization for writers of science fiction and fantasy, with publications [also available to non-members] providing information about activities, publishing news, articles written by pros on how to get published, and thought-provoking essays on the literature of science fiction and fantasy.
Arthuriana
The web page for the quarterly journal of the International Arthurian Society - North American Branch, which also contains information about the organization and about Arthurnet, the online discussion group sponsored by
Arthuriana
.
The George MacDonald Society
Website for the George MacDonald Society, giving information on the group's activities and about its publications. Webmaster Joseph Flynn also sells rare books, specializing in the works of MacDonald (of course!) and the Inklings.
Children's Book Illustrator's Guild of Minnesota
A new resource for artists and lovers of illustrated books.
The Brazilian Tolkien Society
One of the growing number of world-wide national groups focusing on Tolkien's works.
Conference on Christianity and Literature
Allied organization of the Modern Language Association, the CCL is dedicated to scholarly excellence in the exploration of the intersection between Christianity and literature. Inklings-related topics often explored in regional conferences.
"Dragon" Illustration by Kevin Farrell © 1995