The Mythopoeic Society is a non-profit organization devoted to the study of mythopoeic literature, particularly the works of members of the informal Oxford literary circle known as the "Inklings."
The SWOSU Digital Commons is the official digital archive of the Mythopoeic Society.
Did you know ...you can support the MythSoc when you follow our links to Amazon? The price is the same but the Society gets a little bit from your purchase.

---
Something Mighty Queer
February 17-18, 2024
Via Zoom and Discord

Join us for a virtual conference centered around queerness in fantasy, science fiction, speculative fiction, or other mythopoeic work.
Aspects of this topic might include but are certainly not limited to any of the following: Otherness, stranger/outsider, the uncanny, marginalization and oppression, liminality and liminal spaces, depictions of queer people, thresholds, trans theory, gender performativity, readings and research that challenge normative or hegemonic perspectives.
---
Did you also know ...the Mythopoeic Society sells assorted goodies, in addition to our excellent publications and the books we publish? Please visit our store and wander through.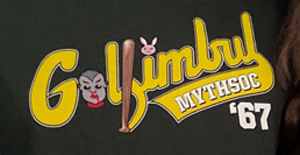 We Now Have Golfimbul T-Shirts!