The Mythopoeic Society is a non-profit organization devoted to the study of mythopoeic literature, particularly the works of members of the informal Oxford literary circle known as the "Inklings."
The SWOSU Digital Commons is the official digital archive of the Mythopoeic Society.
Did you know ...you can support the MythSoc when you follow our links to Amazon? The price is the same but the Society gets a little bit from your purchase.

The twice-delayed Mythcon 52 will be held in-person in Albuquerque, New Mexico, July 29-August 1, 2022. The committee has finalized the venue, and the latest Progress Report is now available. Registration is open. The Call For Papers is now closed.
We really look forward to getting together again, in person, and seeing your smiling faces - even if we have to imagine the smiles behind your masks! (Mythcon 52's health policy is stated in the Progress Report, with the understanding that the situation may change in the coming months.) Please join us in The Land of Enchantment for Mythcon 52 this summer.
---
Did you also know ...the Mythopoeic Society sells assorted goodies, in addition to our excellent publications and the books we publish? Please visit our store and wander through.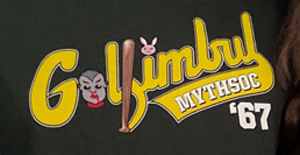 We Now Have Golfimbul T-Shirts!