The Mythopoeic Society is a non-profit organization devoted to the study of mythopoeic literature, particularly the works of members of the informal Oxford literary circle known as the "Inklings."
The SWOSU Digital Commons is the official digital archive of the Mythopoeic Society.
Did you know ...the Mythopoeic Society sells assorted goodies, in addition to our excellent publications and the books we publish? Please visit our store and wander through.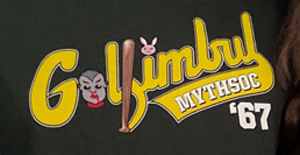 We Now Have Golfimbul T-Shirts!
A VIRTUAL "HALFLIN" MYTHCON
July 31 - August 1, 2021 (Saturday and Sunday)
Special membership rates!
The theme for our next IN-PERSON Mythopoeic Conference, Mythcon 52, is "The Mythic, the Fantastic, and the Alien" (with a small nod of the head to Area 51) and our Guests of Honor are David Bratman, Scholar, and Rivera Sun, Author. Do plan to come join us in Albuquerque, New Mexico, July 29-August 1, 2022.

---
Did you also know ...you can support the MythSoc when you follow our links to Amazon? The price is the same but the Society gets a little bit from your purchase.

---
---