Mythcon 37 - August 4-7, 2006

---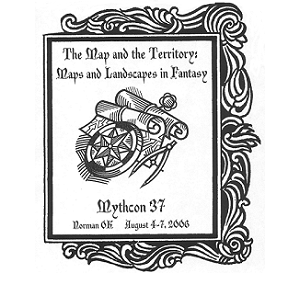 Mythcon 37
The Map & The Territory:
Maps and Landscapes in Fantasy
University of Oklahoma
Norman, Oklahoma
August 4-7, 2006






---
The Map & The Territory: Maps and Landscapes in Fantasy
What role do maps and landscapes play in fantasy? Is drawing the map necessarily an early part of the subcreative process? How do fantasists go about creating the worlds in which their stories take place? Sometimes it's said that the landscape is a character in the story—what does this mean? Sometimes maps play an important role in the story itself. Maps also provide an opportunity for "other minds and hands" to fill in the blanks left in an author's subcreated world. Native American characters frequently appear in fantastic fiction—how are they portrayed, and what role(s) do they play? Consider fantasies based on native myths and legends and/or fantasy written by Native American authors…what sources and philosophies do they bring to the field of fantasy?
---

Guests of Honor
Lois McMaster Bujold, Author
2004 Nebula Award for Best Novel (Paladin of Souls)
2002 Mythopoeic Fantasy Award for Adult Literature (The Curse of Chalion)
1990 Hugo Award for Best Novella ("The Mountains of Mourning")
Amy H. Sturgis, Scholar
Dr. Sturgis's scholarly articles have appeared in numerous periodicals including Seventeenth Century, Winedark Sea, Reason, CSL: The Bulletin of the New York C.S. Lewis Society, and our very own Mythlore (forthcoming).
---
Call for Papers
View or Download Call for Papers
(PDF)
---
Progress Report & Call for Papers, etc.

---

Location Thurman J. White Forum Building

Each meeting room at the Forum comes equipped with chalkboard, chalk, overhead projector, A/V screen, and a podium microphone.

---

Housing and Meals The Sooner Hotel & Suites (standard hotel rooms and two-bedroom cottages) http://www.housing.ou.edu/soonerhotel/ The Sooner Hotel and Suites offers a number of helpful services and amenities. Each room contains a mini-refrigerator, microwave, and cable TV with free HBO and a VCR. The Sooner Hotel and Suites also provides a complete line of services to cater to your every need. These services include:

On-site ATM
Facsimile and copy services
Free parking permits
Laundry/valet/dry cleaning
Handicapped facilities
Free game area with ping-pong, foos ball, and pool tables
Passes for Huston Huffman Athletic center and Murray Case Sells Swim Complex
Breakfast, lunch, and dinner in the Commons Restaurant on-site
Lots of open space for golfimbul…

---

Events

Friday night book signing and reception at the University of Oklahoma main campus bookstore: link
The Annual Banquet will be held Sunday night in the Sam Noble Oklahoma Museum of Natural History. http://www.snomnh.ou.edu/

---

T-Shirts! Order conference t-shirts here!

---

Campus Amenities While you're on campus, be sure to see: Maps and brochures are available for self-guiding walking tours of the campus, with a focus on our wonderful sculptures, architecture, and gardens.

---

Local Points of Interest There's plenty to do in Norman, Oklahoma City, Tulsa, Dallas/Fort Worth, and along Route 66 for those who want to make a vacation of it. Try these sites:

---

Transportation Will Rogers International Airport in Oklahoma City

About 45 minutes from Norman
Airport Express shuttle is $27 per person one way but cheaper if shared; call 405-681-3311 or look for blue and gold vans at airport

Dallas/Fort Worth International Airport or Dallas Love Field

A three-hour drive by rental car, straight north on I-35

---

Maps Norman:

---