Mythopoeic Press
Books by and about writers of mythopoeic and fantastic literature

---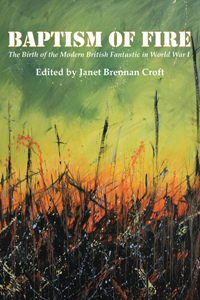 Baptism of Fire
The Birth of the Modern British Fantastic in World War I
Edited by Janet Brennan Croft
ISBN: 978-1-887726-03-0
Published: Altadena CA, 2015
(
purchase below
)
---
World War I has been called "the poets' war," as it was characterized by a massive outpouring of works of literature during and after the war. Much of this literary harvest, as Paul Fussell brilliantly demonstrated in
The Great War and Modern Memory
, hinged on an ironic response to the deadly absurdities of World War I.
Yet, Fussell also acknowledges that fantasy could be a legitimate literary response to the war, a way of transforming the horrible experiences of the war into something more bearable, applicable, and relevant; into myth and "Escape" in the sense that Tolkien used the term in "On Fairy-stories."
This present volume sprang from a desire to examine selected examples of the fantastic response to World War I among British authors. The contents comprise a mix of five classic articles from the pages of
Mythlore
and twelve new essays. The first half of the book considers the Inklings, the Oxford literary group centered on J. R. R. Tolkien and C. S. Lewis, while the second half deals with other authors.
Baptism of Fire downloadable PDF flyer
---
Contents
Janet Brennan Croft, "Introduction: 'The Purest Response of Fantastika to the World Storm'"


Section 1: The Inklings
Michael Livingston, "The Shell-shocked Hobbit: The First World War and Tolkien's Trauma of the Ring"
S. Brett Carter, "Faramir and the Heroic Ideal of the Twentieth Century; or, How Aragorn Died at the Somme"
Margaret Sinex, "Wounded By War: Men's Bodies in the Prose Tradition of The Children of Húrin"
E. J. Christie, "Sméagol and Déagol: Secrecy, History, and Ethical Subjectivity in Tolkien's World"
Nora Alfaiz, "The Preservation of National Unity by [Dis]remembering the Past in Tolkien's The Hobbit and The Lord of the Rings"
Peter Grybauskas, "'Now Often Forgotten': Gollum, the Great War, and the Last Alliance"
Shandi Stevenson, "Beyond the Circles of this World: The Great War, Time, History, and Eternity in the Fantasy of J. R. R. Tolkien and C. S. Lewis"
Andrew Krokstrom, "Silent Wounds"
Brian Melton, "The Great War and Narnia: C. S. Lewis as Soldier and Creator"
Tiffany Brooke Martin, "Horses, Horoscopes, and Human Consciousness: Owen Barfield on Making Meaning in His Post-WWI Writings"


Section 2: Outside the Inklings
Nick Milne, "The Door We Never Opened: British Alternative History Writing in the Aftermath of World War I"
Philip Irving Mitchell, "'A Deplorable Misfit': The Symbolism of Desire in G. K. Chesterton's The Crimes of England"
David J. Carlson, "Lord Dunsany and the Great War: Don Rodriguez and the Rebirth of Romance"
Meyrav Koren-Kuik, "From Lolly Willowes to Kingdoms of Elfin: The Poetics of Socio-Political Commentary in Sylvia Townsend Warner's Fantasy Narratives"
Jon Garrad, "The Conqueror Worm: Eddison, Modernism, and the War to End All Wars"
Joe Young, "E. R. Eddison and the Age of Catastrophe"
Ashley Pfeiffer, "T. H. White and the Lasting Influence of World War I: King Arthur at War"


---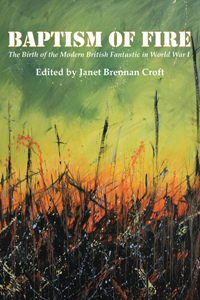 Baptism of Fire
The Birth of the Modern British Fantastic in World War I
Edited by Janet Brennan Croft
Published in July, 2015; available both in print and electronic formats