Mythopoeic Press
Books by and about writers of mythopoeic and fantastic literature

---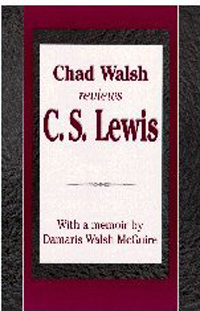 Chad Walsh Reviews C. S. Lewis
by Chad Walsh
ISBN: 1-887726-05-5
Published: Altadena, 1998
---
Professor Chad Walsh (1914-1991) established himself as the American authority on C.S. Lewis with the publication of his
C.S. Lewis: Apostle to the Skeptics
in 1949. He was thereafter frequently called upon to review Lewis's books in such publications as
The New York Times Book Review
,
The Saturday Review
, and
The Washington Post
.
This book,
Chad Walsh Reviews C.S. Lewis
, collects these reviews for the first time, and includes a fascinating memoir by Walsh's daughter, describing her family's visits with Lewis in the 1950s and their long friendship with the woman whom Lewis would marry, Joy Davidman Gresham.
Praise for Chad Walsh Reviews C.S. Lewis
These sharp-edged and cogent reviews of books by C. S. Lewis, published between 1947 and 1978, show Lewis's career and reputation in the making, and offer still-fresh insights to today's readers. What's more, the memoir by Walsh's daughter, Damaris Walsh McGuire, brings strikingly new and detailed information about Joy Davidman Gresham Lewis and both of her husbands. A riveting read from beginning to end, this book will delight scholars and fans alike.
---
Nancy-Lou Patterson
, Distinguished Professor Emerita, University of Waterloo
This book is like a little box of gems. Each review by Chad Walsh is a lovely jewel; and Damaris Walsh McGuire's memoir is a unique treasure in its own right.
---
Lyle W. Dorsett
, Professor of Educational Ministries and Evangelism, Wheaton College and biographer of Joy Davidman Lewis
These reviews of Lewis's key books are an excellent starting point for both beginner and researcher in Lewis studies. Walsh tersely summarizes the essence of each book. His evaluations of what Lewis is trying to do are both sensitive and scholarly, sympathetic but not sycophantic.
---
Doris T. Myers
, author of
C. S. Lewis in Context
The memoir is a loving and poignant addition to our few glimpses of Jack and Joy, and Walsh's reviews are written with and insight. This volume is a welcome addition to Lewis scholarship.
---
Sherwood Smith
, author of
Wren to the Rescue and Crown Duel
-->