Mythopoeic Press
Books by and about writers of mythopoeic and fantastic literature

---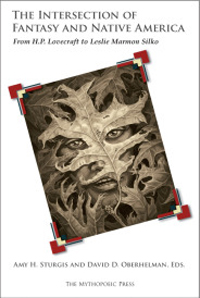 The Intersection of Fantasy and Native America:
From H. P. Lovecraft to Leslie Marmon Silko
Edited by Amy H. Sturgis and David D. Oberhelman
ISBN: 978-1-887726-12-2
Published: Altadena, 2009
(
purchase below
)
---
A number of contemporary Native American authors incorporate elements of fantasy into their fiction, while several non-Native fantasy authors utilize elements of Native America in their storytelling. Nevertheless, few experts on fantasy consider American Indian works, and few experts on Native American studies explore the fantastic in literature. Now an international, multi-ethnic, and cross-disciplinary group of scholars investigates the meaningful ways in which fantasy and Native America intersect, examining classics by American Indian authors such as Louise Erdrich, Gerald Vizenor, and Leslie Marmon Silko, as well as non-Native fantasists such as H.P. Lovecraft, J.R.R. Tolkien, and J.K. Rowling. Thus these essayists pioneer new ways of thinking about fantasy texts by Native and non-Native authors, and challenge other academics, writers, and readers to do the same.
Praise for The Intersection of Fantasy and Native America
The essays in Sturgis and Oberhelman's
The Intersection of Fantasy and Native America
open our eyes to the kinship between families of literature hitherto seen as separate-fantasy and Native American fiction-showing their interconnections in subject matter, in techniques of dream and trance and magical realism and post-modern meta-narrative, and most importantly, in their ability to penetrate appearances in search of underlying truths. The result is that we see each in light of the other and both as parts of the larger, so-called "mainstream," and as essential to our understanding of literature, its writers and readers, in the 21st century. —
Verlyn Flieger, Professor of English, University of Maryland at College Park, Author of Interrupted Music, A Question of Time, and Splintered Light
With excellent and accessible scholarship, this book opens wide the door of Native American mythology and fantasy by connecting it with the fantasy many of us already know and love. —
Travis Prinzi, Author of Harry Potter and Imagination and editor of Hog's Head Conversations
---
Contents
1. "Coming to America": Fantasy and Native America Explored, an Introduction
David D. Oberhelman

2. Meeting at the Intersection: The Challenges Before Us
Amy H. Sturgis

3. The Racist and La Raza: H.P. Lovecraft's Aztec Mythos
Marc A. Beherec

4. Lucy's Sisters in the New World: The Native American Female as Seer in Modern Mythopoeic Fantasy
Grace Walker Monk

5. Vizenor the Trickster: Postmodernism Versus Terminal Creeds and Cultural Schizophrenia
Tripper Ryder

6. In Defense of Trickster Fantasies: Comparing the Storytelling of Innocent IV and Gerald Vizenor
Sean Corbin

7. Native American Myths and Legends in William T. Vollmann's Seven Dreams: A Book of North American Landscapes
Michael Hemmingson

8. Artistic Form and the Supernatural in Pushing the Bear
Joe R. Christopher

9. Spirit Voices - The Fantastical Journey of Omakayas in Louise Erdrich's The Birchbark House and The Game of Silence
Melanie Ann Hanson

10. Ceremony's Fantastic Stories
Lauren Lacey

11. Dreaming with the Dead: Convergent Spaces in Leslie Marmon Silko's Ceremony and Aimee Bender's "Dreaming in Polish"
Aaron Tillman

12. Tayo's Odyssey: The Traits of Fantasy in Leslie Marmon Silko's Ceremony
Punyashree Panda

13. Feminine and Masculine in Silko's Gardens in the Dunes
Mark Holland

---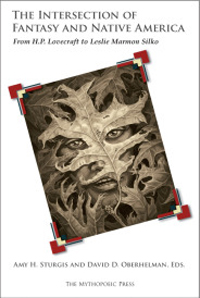 The Intersection of Fantasy & Native America
From H. P. Lovecraft to Leslie Marmon Silko
Edited by Amy H. Sturgis and David D. Oberhelman
Published 2009
Print: $19.95