Mythopoeic Press
Books by and about writers of mythopoeic and fantastic literature
---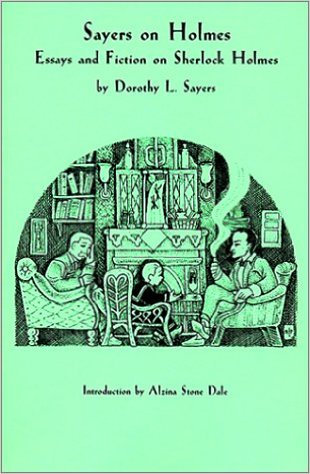 Sayers on Holmes
Essays and Fiction on Sherlock Holmes
by Dorothy L. Sayers
Introduction by Alzina Stone Dale
ISBN: 1-887726-08-X
Published: Altadena, 2001
---

Sayers on Holmes collects the writings of Dorothy L. Sayers on the subject of Sherlock Holmes. In "Sherlock Holmes and His Influence," Sayers examines how the Sherlock Holmes stories affected the genre of detective fiction. In "The Dates in 'The Red-Headed League'" she discusses the contradictory dates in the Holmes story. In "Holmes' College Career" Sayers determines which university Holmes attended—Oxford or Cambridge—and speculates on a birth year for Holmes. "Dr. Watson's Christian Name" represents an effort by Sayers to solve the problem that Watson is called by different first names in different Holmesian stories. "Dr. Watson, Widower," is concerned with the speculation on Dr. Watson's possible multiple marriages. In addition, published here for the first time is the script she wrote for a radio production, "A Tribute to Sherlock Holmes on the Occasion of his 100th Birthday," in which the young Lord Peter Wimsey consults Sherlock Holmes.


Praise for Sayers on Holmes
This book will give great pleasure to readers of Conan Doyle and Dorothy L. Sayers. It contains one special delight: an unpublished story in which Sherlock Holmes and Lord Peter Wimsey are brought together—not to be missed!
—Barbara Reynolds, author of Dorothy L. Sayers: Her Life and Soul, editor of The Letters of Dorothy L. Sayers.

How rewarding to unite Sayers's four Sherlockian studies with her incisive pages on the position of Holmes in detective fiction! How splendid to bring into print for the first time her delightful Wimseyan and whimsical tribute to Holmes—the last Lord Peter story she ever wrote! Alzina Stone Dale's discerning Introduction binds these writings firmly together and it was a brilliant thought to complete this invaluable volume with Joe R. Christopher's annotated listing of Sayers's works.
—Christopher Dean, Chairman, The Dorothy L. Sayers Society

Sayers on Holmes is a fine celebration of the happy conjunction of the two writers who did most to move sensational fiction to a plane where nowadays the books that have followed their example can be enjoyed with profit by even the most fastidious of readers.
—H.R.F. Keating, crime novelist and critic, Fellow of the Royal Society of Literature and holder of the George N. Dove Award for the Serious Study of Mystery Fiction

Dorothy L. Sayers was one of the earliest and best of those who invented and played the grand game of Sherlockian scholarship, and it is nice indeed to have her essays on Sherlock Holmes in print again. It is even nicer to have available for the first time the script she wrote for Lord Peter Wimsey's comments for the centenary birthday tribute to Holmes broadcast by the BBC in 1954.
—Peter E. Blau, geologist and journalist, and the secretary ("Simpson") of The Baker Street Irregulars.



---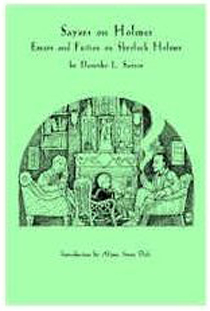 Sayers on Holmes
Essays and Fiction on Sherlock Holmes
by Dorothy L. Sayers
Introduction by Alzina Stone Dale
Published: Altadena, 2001
out of print