The Mythopoeic Society is a non-profit organization devoted to the study of mythopoeic literature, particularly the works of members of the informal Oxford literary circle known as the "Inklings."
The SWOSU Digital Commons is the official digital archive of the Mythopoeic Society.
Did you know ...the Mythopoeic Society sells assorted goodies, in addition to our excellent publications and the books we publish? Please visit our store and wander through.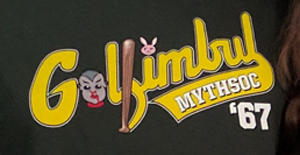 We Now Have Golfimbul T-Shirts!
A VIRTUAL "HALFLING" MYTHCON
July 31 - August 1, 2021 (Saturday and Sunday)
Special membership rates!
Due to ongoing health concerns and the realization that we cannot now plan something that may violate future New Mexico state health and safety regulations, whatever they are in July-August of this year, the Council of Stewards has decided to postpone the next in-person Mythcon until summer of 2022; the date will be July 29-August 1, 2022. Our venue and Guests of Honor have all agreed to this change and the conference theme will remain the same.
The theme for our next IN-PERSON Mythopoeic Conference,
Mythcon 52
, is
"The Mythic, the Fantastic, and the Alien"
(with a small nod of the head to Area 51) and our Guests of Honor are David Bratman, Scholar, and Rivera Sun, Author. Do plan to come join us in Albuquerque, New Mexico, July 29-August 1, 2022.
---
Did you also know ...you can support the MythSoc when you follow our links to Amazon? The price is the same but the Society gets a little bit from your purchase.

---
Mythopoeic Nostalgia? Enjoy our Special DOUBLE HOLIDAY Sale
As we experience ongoing Mythopoeic nostalgia, waiting for our delayed
Mythcon 51
(the new dates are July 30 - August 2, 2021), the Mythopoeic Press has announced its special sale for the holidays...
Each month or two through May 31, 2021, we will select one of our backlisted titles to go on sale when purchased through our website at our
Mythopoeic Press
page. For the Holidays, we feature
TWO
titles:
The Intersection of Fantasy and Native America: From H. P. Lovecraft to Leslie Marmon Silko
, edited by Amy H. Sturgis and David D. Oberhelman - 25% off, total $14.95 (normally $19.95 on our website and $23.00 from Amazon.com).
AND
The Masques of Amen House
by Charles Williams, edited by David Bratman (our upcoming Scholar GOH for
Mythcon 51
!) -- 25% off, total $12.00 (normally $16.00 on our website and Amazon.com).
---