The Mythopoeic Society is a non-profit organization devoted to the study of mythopoeic literature, particularly the works of members of the informal Oxford literary circle known as the "Inklings."


The Mythopoeic Society is a 501(c)(3) non-profit corporation and donations are tax-deductible, as allowed by law.
Did you know ...the Mythopoeic Society sells assorted goodies, in addition to our excellent publications and the books we publish?
Please visit our store
and wander through.
Did you know ...you can also support the MythSoc when you follow our
links to Amazon
? The price is the same but the Society gets a little bit from your purchase.
Mythcon 48
will be held July 28-31, 2017, in Champaign, Illinois. We will be celebrating the
50th Anniversary
of the Mythopoeic Society and our conference theme is
All That Is Gold
. You may download the
Call for Papers here
.
We are pleased to announce that William Fliss, Archivist at the Marquette University Special Collections and Archives, and Laura Schmidt, Archivist at the Marion E. Wade Center at Wheaton College, will be our Guests of Honor for this very special conference. We encourage you to
register now
.
Room & Board
options are now available. Please plan to join us this summer in Illinois!
---
The latest from
The Mythopoeic Press
,
Baptism of Fire: The Birth of the Modern British Fantastic in World War I
. Edited by Janet Brennan Croft.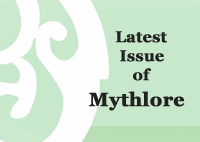 The Mythpress is most honored that two recent titles have been nominated for British Science Fiction Association award for Nonfiction:
Perilous and Fair
(co-edited by Leslie Donovan and Janet Brennan Croft) and
Baptism of Fire
(edited by Janet Brennan Croft alone).
---